Social Login for Joomla! is a professional though free Joomla! extension that allows your visitors to login and register with social networks like Twitter, Facebook, LinkedIn, LiveJournal, StackExchange, Hyves, Google and Yahoo amongst others.
It increases your Joomla! user registration rate by simplifying the registration process and provides permission-based social data retrieved from the social network profiles.
Social Login for Joomla! integrates with your existing Joomla! registration system so you and your users don't have to start from scratch.
1. Install Social Login for Joomla!
The installation is not very complicated and should only take a couple of minutes.
1. Download the module archive,
2. Open the Extension Manager in your Joomla! Administration area,
3. Navigate to Upload Package File and select the file that you downloaded before,
4. Click on Upload File & Install.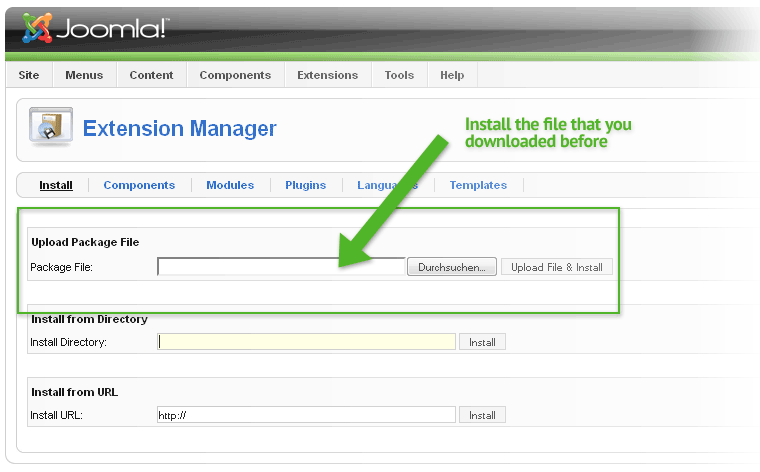 2. Obtain the API Credentials and setup the Social Networks
After having installed the Social Login extension on your Joomla! website, you must enter your OneAll API credentials and setup the social networks that you would like to use.
2.1. How to obtain your API Credentials?
Login to your existing OneAll account or alternatively create a new account.
Click on Site Configuration in the top navigation bar,
Click on the name of your site (If you do not have a site yet, please create a new site first),
Copy & paste the values at API Access Credentials into the Social Login plugin settings in your WordPress account.
2.2. How to setup the Social Networks?
Many social networks require that the webmasters register their website before being able to use more advanced features. To be able to use the plugin, you must therefore register your site. This process is straightforward and takes only a couple of minutes.
It has to be done only once for each provider and we will guide you through this process. To setup your providers, please login to your account, select your Site and click on Social Providers.
3. Questions & Troubleshooting
3.1. Where can I find the Social Login configuration menu?
Please login to your Joomla! administration menu, click on Components and select Social Login Configuration.
Social Login Configuration: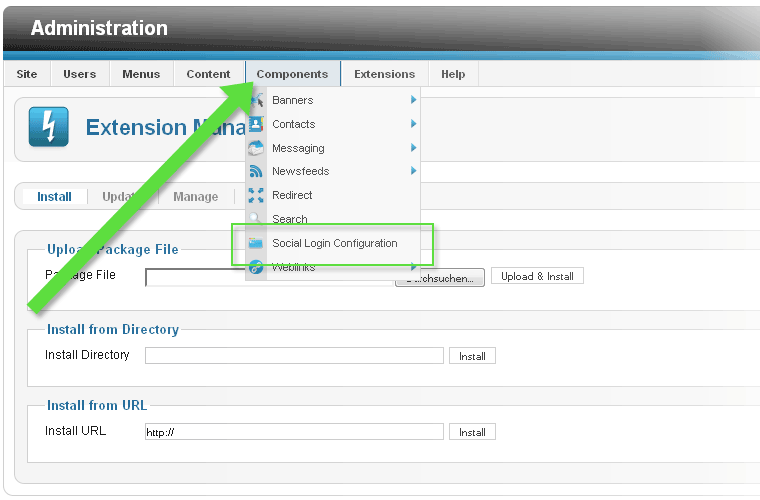 3.2. Social Login is not being displayed at all on my Joomla! website!
Please login to your Joomla! administration menu, click on Extensions and select Module Manager. Search for the module Social Login and click on it's title. Verify the module settings according to the screenshot below.
Social Login Module Settings: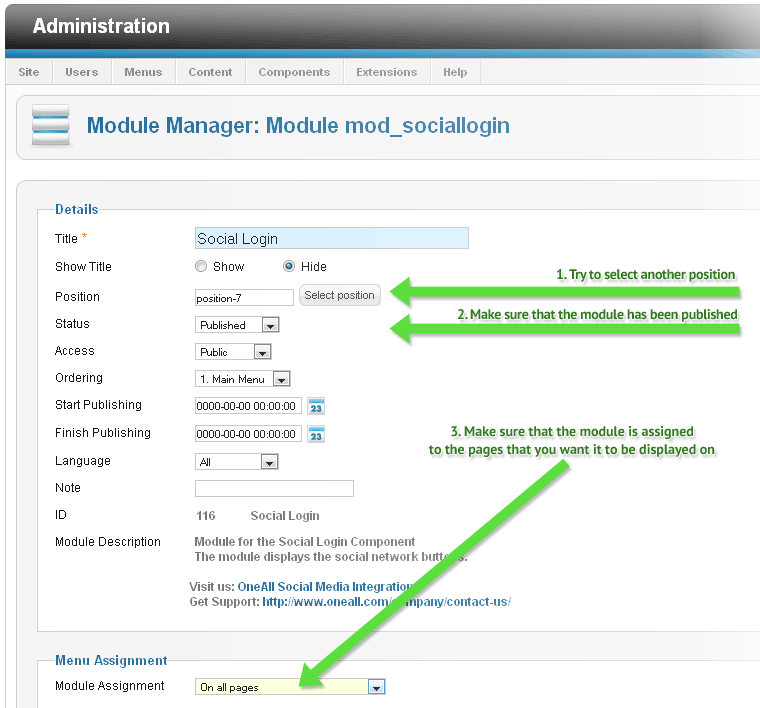 4. Contribute
Feel free to fork the GitHub repository if you would like to contribute to the development of this mod.